Description
04.901.00001
More Product Info:
Facemask also available for women, see photo in gallery for Leona Mask for women.
To order Leona Facemask for women follow link.
Pre-washed and disinfected.
Care Instructions:
Hand washable, and Machine washable up to 40 degrees.
FACEMASK LENGTH MEASUREMENT:LENGTH:
LENGTH: Measure from A to B x 2 (ear to ear), from behind ear hole and across nose bridge.
WIDTH: Measure from A to C, from nose bridge to just underneath the tip of the chin.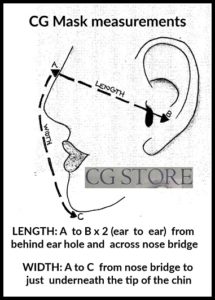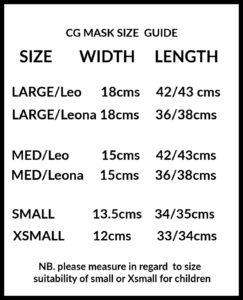 DELIVERY:
Up to 10 business days delivery (UK & EUROPE)
Up to 14 business days delivery (Worldwide)
NB: *DUE TO CORONA VIRUS PANDEMIC, USUAL POSTAL DELIVERIES ARE EXPERIENCING DELAYS.*
Purchase can also be collected from CG STORE (London SW2) by email arrangement.