Description
04.901.00001
MORE PRODUCT INFO
See image in description section below for length measurement.
Click Links to view more Facemask Designs.
LINK for more Men Facemask Designs.
LINK for more Ladies Facemask Design
Order Limited Edition – XLITE SILK Facemask.
Order Fabric POUCH BAG for Facemask & Sunglasses.
Care Instructions:
Hand washable, and Machine washable up to 40 degrees.
FACEMASK LENGTH MEASUREMENT:LENGTH:
LENGTH: Measure from A to B x 2 (ear to ear), from behind ear hole and across nose bridge.
WIDTH: Measure from A to C, from nose bridge to just underneath the tip of the chin.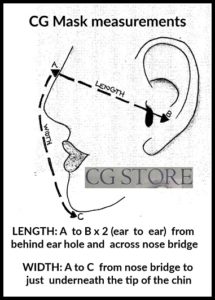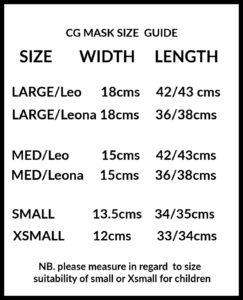 DELIVERY:
Up to 10 business days delivery (UK & EUROPE)
Up to 14 business days delivery (Worldwide)
NB: *DUE TO CORONA VIRUS PANDEMIC, USUAL POSTAL DELIVERIES ARE EXPERIENCING DELAYS.*
Purchase can also be collected from CG STORE (London SW2) by email arrangement.