Clariscia's starting point is accepting yourself as you are.
"Nobody is solely a static size we all have a body type"
It's about how your body looks.
As a valued client of CG Couture, you are proposed two initial service options to bring you closer to your fabulous final product; made to measure choices from our sample collection, or the full couture experience, started totally from scratch. Both options offer an equally expansive array of the finest fabrics used to create garments of brilliance. Every item incorporates specialist cutting, alongside exceedingly skilled couture hand sewing techniques.
For Appointments – By Request Only please click below :
At CG Bridal, we know that you want your wedding dress to be sculpted to your very own standards of perfection, and that every wedding day is unique. Throughout the creation process, your inspiration and ideas will be the leading factor in the design of your gown, whilst tailoring expertise and precise handcrafting will ensure that you'll walk down the aisle in elegance befitting of bespoke wedding couture. The CG Store is a must visit for those all important wedding accessories from garters to ring cushions and carefully selected Swarovski jewellery pieces to compliment the bridal gown along with gifts for the bride-to-be's wedding helpers.
For Appointments – By Request Only please click below :
CG Online Store
Couturiere and fashion designer, Clariscia Gill has created garments for just about every conceivable body shape in her long career. The combination of her rich experience and clients repeated requests have led her to setting up the online; CG Store. She too, as a consumer, knows the frustrations of shopping where garments are just, not quite right if you are not a 'standard' size and has sought to address some of the issues. Accessories for women and men are also available in the CG Store.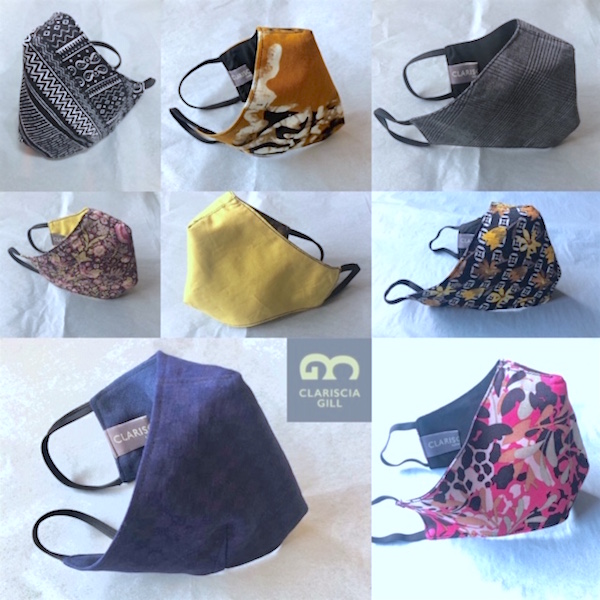 products of the month
Leona – Ladies Facemasks – reversible
Leo – Mens Facemasks – reversible
CG International Atelier Limited: Enquiry@clarisciagill .com – T+44(0)20 7495 2121 – +44 (0) 84 5463 9309.
Registered Company Number: 6710126. Vat no: 974877841